I received some unexpected advertising and an order form from the folks at Active Intermedia (the folks who publish the wonderful Austria Netto Katalog) and it arrived on the below cover — which is puzzling.
On the back, there is some more information in three languages:
But back to the front. In the upper left corner is the "Ersttag" (first day) logo usually used on first day covers by Austria Post. And the special cancellation was dated June 27 2022 (which makes sense given I received this not to long ago). But the stamps themselves are from 2007 and 2010.
Perhaps the sender just used a first day cachet envelope they had on hand? That crossed my mind — but then they went through the effort to get the special cancel. The cancel is from Judendorf-Straßengel which (according to Wikipedia) is the name of an area of Graz. Active Intermedia's address is listed in Vienna, so that's also interesting. The cancel reads "Briefmarkenschau St Gabriel" (St. Gabriel Stamp Show) and that's where things started to make a little bit of sense. According to their site, the St. Gabriel association is a stamp club — here is how they describe themselves:
The Austrian Philatelist Association St. Gabriel is named after the patron saint of post and philately, Archangel Gabriel. The association unites collectors of Christian postage stamps and is represented in all Austrian federal states. All St. Gabriel guilds in Europe and overseas are united by the World Association of St. Gabriel.
The upper left portion of the cancel is hard to read — but when I looked up the organization, I was able to find the exact cancel.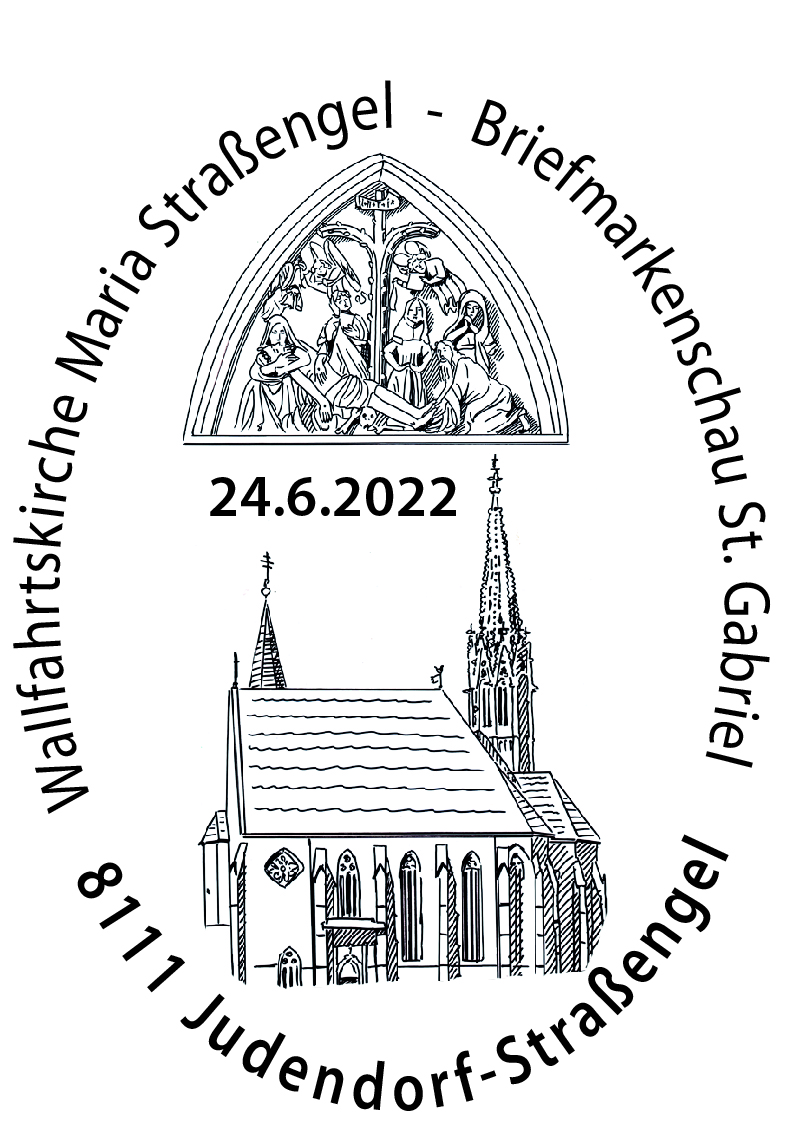 This image is directly from the organization's site — please see the link above.
From what I can tell, this cover was postmarked at the Pilgrimage Church of Judendorf-Straßengel at a stamp show that occurred on June 24. The cachet and envelope seem to be unrelated.
It is unexpectedly interesting to find this — and now (based on poking around Google Maps) I have a new place to add to my list of places to visit in Austria. I would've never looked into any of this had I not noticed I received a "first day cover."
Andrew has been collecting since 2020, and created this website in 2022 to document his philatelic experiences.